Corporate website: Ballast Nedam
Iconic buildings naturally require a website that gives the right impression. The impressive projects of Ballast Nedam and their identity are central to the new corporate website.

Ballast Nedam loves a challenge. And so do we. Over the past few months, we worked closely together on the new corporate website for this construction and development company. The goal was to create a website where you could dive straight into the fantastic projects of Ballast Nedam. So, it was a challenge for us to convey that experience online! That's why, in this project, we used of visuals, videos, and cool animations.
Iconic constructions
Whether you realize it or not, you've probably come across Ballast Nedam's iconic buildings at some point. The company has been creating landmark buildings and infrastructure since 1877, including buildings, bridges, roads, tunnels, and ports. Think of the Oosterscheldekering, parts of Schiphol Airport, the Amsterdam city hall, the Stopera, the Afsluitdijk, and the Johan Cruijff Arena, which they renovated in 2017. But they've also built an impressive wildlife bridge in the Zuid-Kennemerland National Park and restored 25 kilometers of retaining walls in the busy Amsterdam-Rijnkanaal waterway, without disrupting shipping traffic.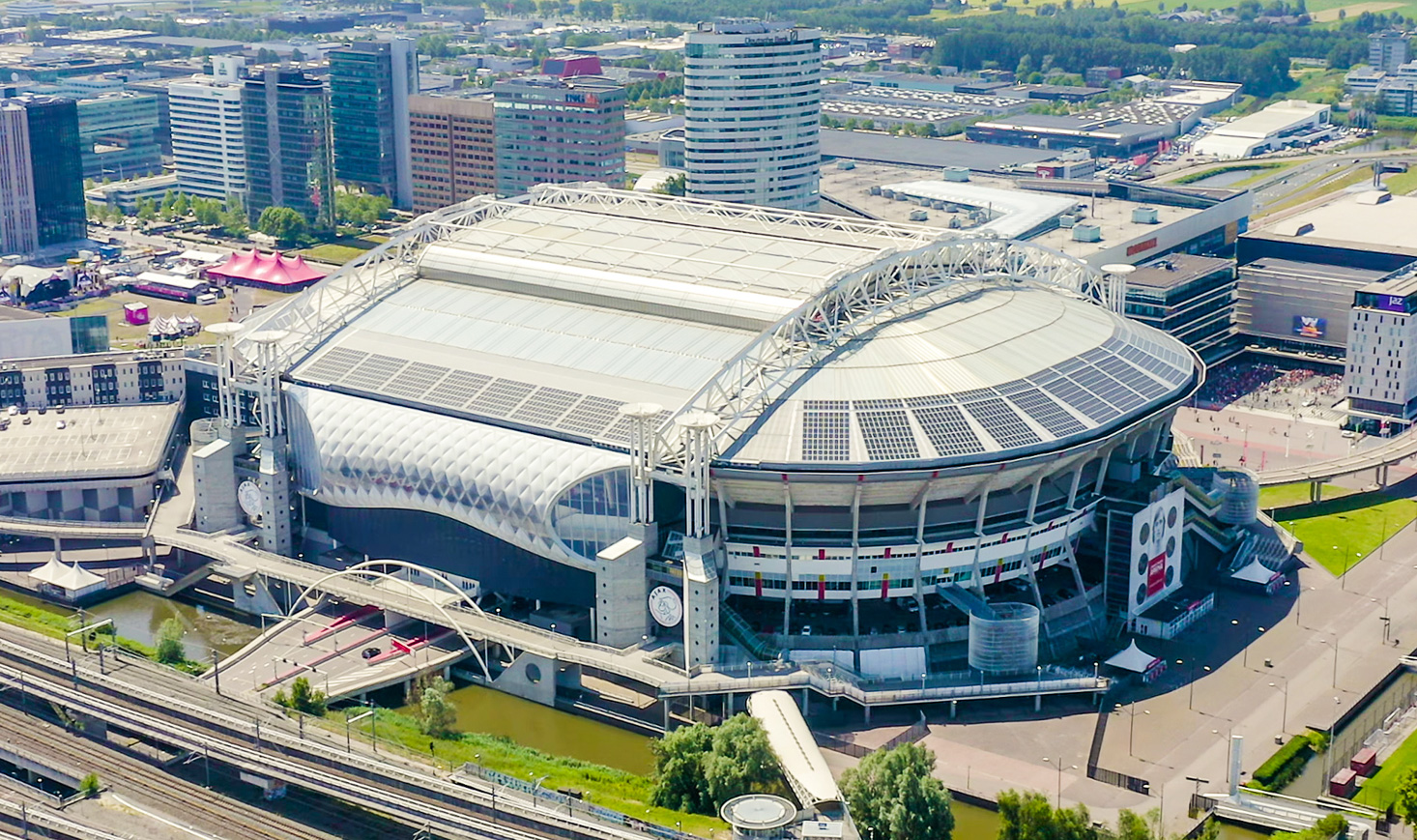 Innovation and sustainability
We always kick off a project with a concept sprint. During the sprint, we adopt a human-centered design approach, putting the user at the core. We also take into account the client's requirements and conduct market research to identify the target audience's needs. Next, we align these needs with the business's objectives. Lastly, we consider technology and functionality. All of this information is then consolidated into a prototype that the client can navigate through. This makes it easy to test the model. Once we're confident that the prototype has the right structure, we move into the design process. Of course, it's crucial that the design is a proper representation of Ballast Nedam's identity.
What sets Ballast Nedam apart is their commitment to finding sustainable solutions. To ensure this, they are constantly innovating. This extends beyond building iconic structures and reducing their ecological footprint. It also encompasses safety and how Ballast Nedam treats its partners and employees. That's why staff members are given a prominent place on the new corporate website. Take a look around, you'll see them featured often.
Experience
On the new website, you get an overview of Ballast Nedam and its projects, people, and working methods.To achieve this, we used multiple techniques. And if we may say so ourselves, the front-end is spectacular.
For this project, we used Picoapp as a scripting library. It was handy because we could quickly and easily create reactive Javascript modules for HTML elements.
For the back-end of the new corporate website, we used the Contentment package to connect to other data sources.
Convenience
Ballast Nedam has a large number of organizational units, suppliers, and other stakeholders. Ballast Nedam strives for sustainable relationships. To contribute to this online, we have created an extensive contact page. By using multiple entry points smartly, the process of requesting contact is streamlined, resulting in shorter communication lines and faster processing.
The best of both worlds comes together on the new corporate website. You will see the impressive constructions, meet the people, and get the real Ballast Nedam experience. At the same time, the website is also equipped with all conveniences, and visitors can easily contact the right departments without much effort.
"It's like buying new shoes. As soon as you try them on in the store and glance at your old shoes, the difference is huge. The same goes for our completely new website. A particularly intensive collaboration process between the teams of Ballast Nedam and Novaware, as well as all the involved copywriters, translators, videographers, and photographers, has resulted in a beautiful completely new website. We are extremely proud of this team achievement!" Martijn Smitt, Executive Director
Multilingual
Ballast Nedam has an international character and therefore speaks multiple languages. This is no problem in Umbraco 8 - the core of the website. Each content page can be created in both Dutch and English, and within Umbraco, the different variants can be easily compared and adjusted by using split view.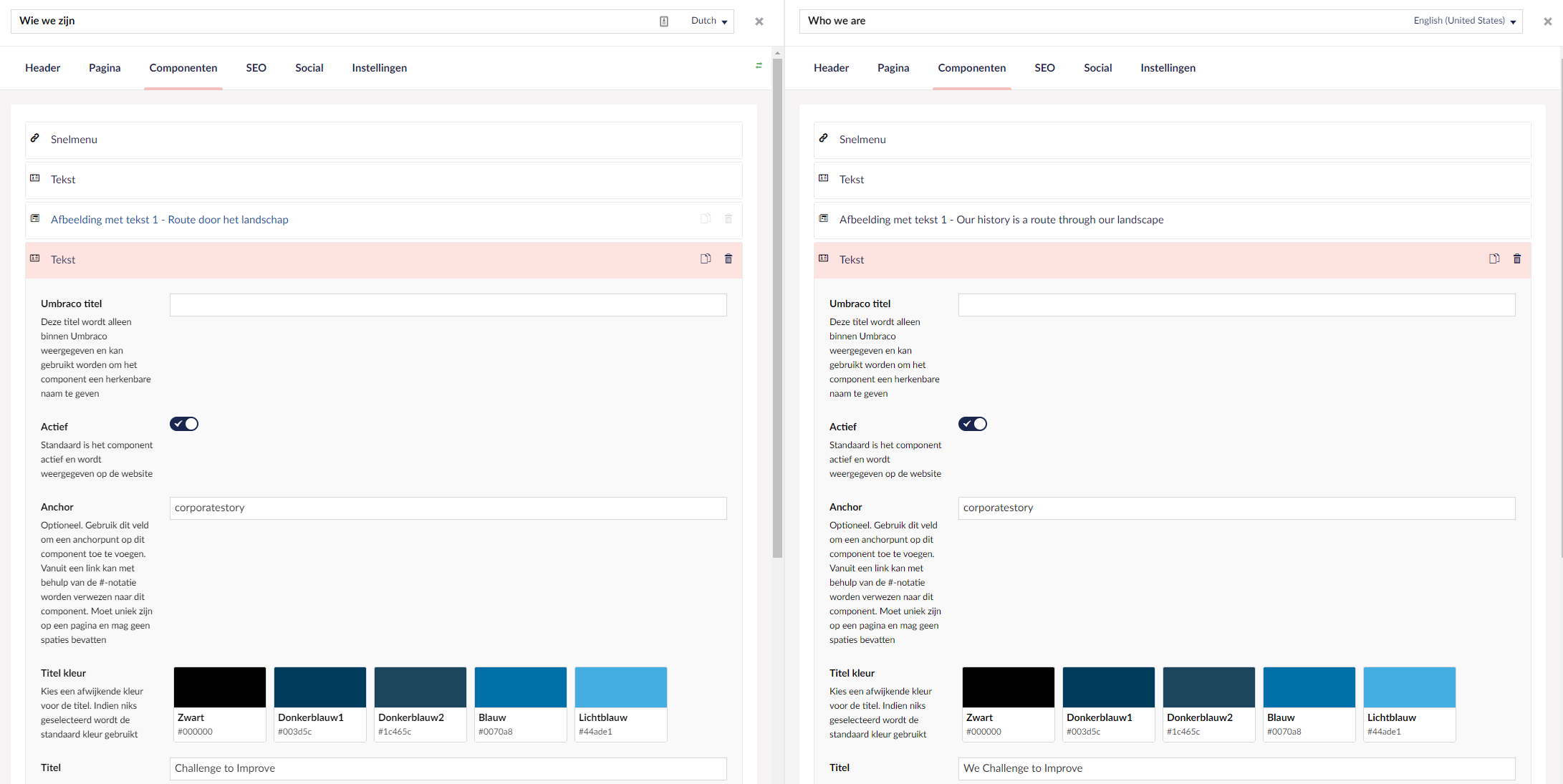 Future
In addition to the corporate website, the new careers website will also be housed in the same Umbraco environment. In the future, Ballast Nedam's other websites can also migrate to this multisite environment. The big advantage of such an environment is that all components can be reused, and you can manage multiple websites from one environment.